How to recognise me at WWDC 2006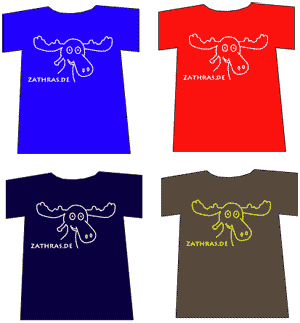 No, that's not swag, it's my dress code for WWDC :-) Note that there's a fifth shirt, white on black. I may also be taking along my dark blue zathras.de "Very Amooseing" shirt... text-only.
Update: Okay, for those of you who'd like some shirts of your own, I've opened a little Online shop for Moose Trinkets. We have a mug, T-shirts, a cap, buttons and even a wall clock. I'm planning even cooler stuff, but I have to wait for them to approve the motive before I can do that.
Ruth Less writes:
Tenhleto Online shop nefunguje, Ty vole! :-P It's emberassing enough for you to open an online shop and become rich&famous(tm) before I do -- but that the shop does not work is outrageous! The requested URL was not found on this server. The link on the referring page seems to be wrong or outdated. Please inform the author of that page about the error. If you think this is a server error, please contact the webmaster.
Ruth Less writes:
Yes, works now. Nice shop. You Shu is cool. (And no, I don't mean shoe.) But what about the beetles and the alarm clocks? You just throw in some unrelated stuff? :-) I should make a sop like that too. With spiders instead of beetles, and Rattatosk instead of Shu (it's as close as you get to a rat). Did you know you can print your own comics and books-on-demand at lulu.com? But I assume the quality is pretty bad (no sample photograph of the actual product's quality...), don't expect too much.