Dictionary reading for Laughing Squids - Demystified
It's amazing that some people think they're the saviors of the "blogosphere" while they're not even able to read a simple dictionary. I'm talking, of course, about Scott Beale, who thinks the New Oxford American Dictionary was insulting bloggers. And of course, the guys at Heise.de swallowed it hook, line and sinker, no questions asked, thankyouverymuch.

Now, if you have ever used a dictionary, you'll know that the text in italics to which Scott is referring is not the definition. It is an example, and it doesn't even say "blogs are run..." it just mentions "blogs run by...", i.e. it's simply a mention of a subgroup of blogs. The definition is the text in non-italics immediately before that: "a weblog". And this text, in turn, encourages you to look for the word "weblog", which contains a perfectly good definition:

weblog, noun, a Web site on which an individual or group of users produces an ongoing narrative.

Don't believe me? See for yourself: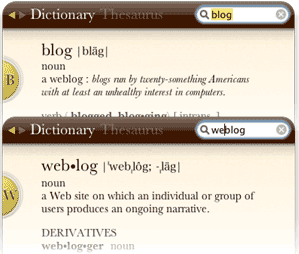 Please move on, nothing to see here...